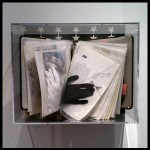 A Thin Line Shimmers: Part 3, An Interview with Philip Zimmerman
by Jason Lahman, My Eye In the Sky, September 16, 2011
Artist Philip Zimmerman is known for his impeccably constructed sculptures that incorporate found objects into his own hand-crafted elements, often carved from wood, cast in metals and set with precious stones.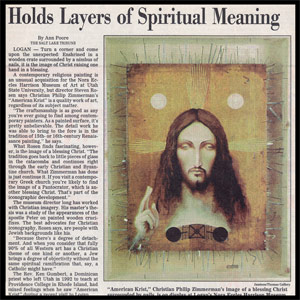 Transfixing "American Krist" at USU Holds Layers of Spiritual Meaning
by Ann Poore, The Salt Lake Tribune, February 19, 1994 - Religion
Logan - Turn a corner and come upon the unexpected: Enshrined in a wooden crate surrounded by a nimbus of nails, it is the image of Christ raising one hand in a blessing.
A contemporary religious painting is an unusual acquisition for the Nora Eccles Harrison Museum of Art at Utah State University, but its director Steven Rosen says Christian Philip Zimmerman's "American Krist " is a quality work of art, regardless of its subject matter.
"The craftsmanship is as good as any you are ever going to find among contemporary painters. As a painted surface it's pretty unbelievable. The detail work he was able to bring to the fore is in the tradition of 15th- or 16th-century Renaissance painting," he says.
What Rosen finds fascinating, however, is the image of a blessing Christ. "The tradition goes back to little pieces of glass in the catacombs and continues right through the early Christian and Byzantine church. What Zimmerman has done is just continue it. If you visit a contemporary Greek church you are likely to find the image of a Pantocrator, which is another blessing Christ. That's part of the iconographic development."
The Museum director long has worked with Christian imagery. His master's thesis was a study of the appearances of the apostle Peter on painted wooden crucifixes. The best advocates of Christian iconography, Rosen says, are people with Jewish backgrounds like his.
"Because there's a degree of detachment. And when you consider that fully 90% of all Western art has a Christian theme of one kind or another, a Jew brings a degree of objectivity without the same spiritual ramification that, say, a Catholic might have."
The Rev. Ken Gumbert, a Dominican priest who left Utah in 1992 to teach at Providence College in Rhode Island, had mixed feelings when he saw "American Krist" during a recent visit to Logan.
"There is something inviting for me in the image of the suffering Christ that draws me in. Yet the more I looked at it, the more distanced I felt from the experience of Christ."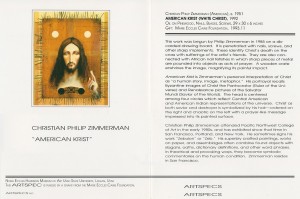 "It certainly isn't a traditional icon," He says. "It's a contemporary interpretation that can attract viewers into the mystery as well as remind them how different and distinct our modern experience is from this ancient event."
"That's the duality that makes it work so well," Gumbert says.
"The hand that blesses also can destroy," the artist explains from his home in San Francisco.
"I didn't want a totally benevolent image, but one that has power in any direction," Zimmerman says. "That's how I see Christianity functioning in the New World. It brought a lot of sorrow and suffering. It continues to work in that way, as well."
Reared a Methodist Presbyterian ("not a conservative Fundamentalist upbringing"), Zimmerman, 37, views Christ as "a human story, image, metaphor. Anyone who is dealing with struggle can go to his life and find strength there. It's an individual thing. You have to find that inside of yourself. I wanted to create an image of Christ that would have meaning for me."
A painting attributed to Leonardo da Vinci, the "Salvator Mundi" or Savior of the World, inspired Zimmerman when he saw it in Berkeley, Calif., during the 1980s. (Utahns may remember the painting as part of the same traveling exhibition at the Utah Museum of Fine Arts in 1983.) "The image stuck with me and I wanted to reprise it, to become personally involved with it," he says. In 1985, he began painting on a discarded drawing board he found on the streets of New York.
"It's hard for me to recall the act of painting on it. That's all kind of a blur," he says. It took him until 1992 to complete the work, a piece markedly unlike anything he has created before or since.
Only a close look at "Ameican Krist" reveals two distinct sides to the image. One is ordered, each hair seems painted individually. The other side of the head is wild and messy with what Zimmerman terms an "ancient formula" (probably a prayer of gnostic origin) impressed onto the surface beneath layers of varnish.
The head is centered among four circles, two white, two black, reflecting the artist's interest in Mayan, Middle American and American Indian religious traditions.
"There is always a configuration of the universe oriented to the four directions with a center," he says.
Zimmerman isn't sure where the nails started to enter the picture.
"Every time I put a nail it, I was thinking of a friend who was suffering," the artist says. "It was like identifying the person's struggle with the struggle Christ had undergone, merging the two into one. It was like praying, in a way."
Zimmerman says he also made a connection with the nail fetishes found in some African and Oceanic cultures. "My understanding was that different individuals would bring pieces of metal to an object and pound them in with a prayer or a request or thanks. And the object would be covered with metal pounded in by people with different intents. The acts of prayer seemed to have worked to empower the pieces. Mine was individual and there is a big difference."
Though he signed "American Krist" with the name Zebulon (10th son of Jacob), Zimmerman doesn't categorize himself as a religious artist. He says: "Any act of art-making is an affirmation of some faith that a human being possesses."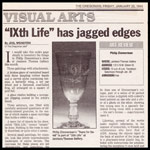 "IXth LIFE" HAS JAGGED EDGES
by Joel Weinstein, The Oregonian, January 22, 1993 - Visual Arts
It would take this entire page simply to inventory the things in Philip Zimmerman's show at Jamison Thomas Gallery this month.
Three paintings with attachments.
A broken piece of varnished board with three dangling rubber bands and a carved niche containing hat pins, a butterfly wing, a toy car wheel and a flattened, road-killed frog all arranged on a square of gold foil.
A glass chalice holding a newspaper clipping soaked in the artist's blood.
Three ashtrays, one filled with carefully sectioned quadrants of different colored granules in the center of which stands a spent cartridge that holds a robin's egg...
A mere list of objects in the show called "IXth Life" cannot "simply" be done. Nothing in the room is easily described or quite what it seems.
Several small paintings for example look like lovely impressionistic landscapes of alpine terrain. The canvases for these pieces are old photographs, and sometimes the ghosts of city buildings lurk beneath a mountains snowy surface, or a diminutive, turbaned figure has been incorporated into a postal lake scene.
One of the large oils was once titled, "Venus and Werewolf" but is now called, "Object of Apparently Little Value." It pictures a pale, shaggy humanoid form with a tail and canine muzzle, shrinking from a bright mandala above it which has as its radiant center a toy brass sun. The painting has a naive and sinister mystery, but it is also part of a droll artworld shenanigan, as revealed by the letters taped to the back and a sheaf of documentation in a manila folder nearby.
It seems that the artist in his guise as "Allan Stinson" - he also uses the name Philadelphia (sic) Zebulon, and his artist's statement, "I was found under a rock" is signed "Zeb" - sent the painting to Christie's and Sotheby's, the two most prestigious art auction houses in the world, claiming it had been willed to him by his deceased lover.
One of the replies informed him the "unfortunately, it would not be of sufficient value" to try to auction it; hence its new moniker.
Zimmerman delights in scavenging the real and imaginary detritus of daily life and reconstructing it in a way that is part theater, part monument-making.
For several pieces in "IXth Life," he has partaken of a particularly modern urban legend in which he played a prominent part.
When he lived in San Francisco(sic), his car was stolen, and later he saw it on the street. This was not too long after the theft, and, as luck would have it he still had the keys, so he simply drove his car away. Under the driver's seat, he discovered syringes and blood-blotted tissue and a packet of photographs, snapshots, apparently of the junkie-thief and his family. The map of Manhattan has one of these photos.
So does one of Zimmerman's collages, part of a series of 30 packed into a valise: a dyptich with a devil's head painted on one side and a sliver of a photo on the other, showing two young men in a sparsely furnished living room with a number - his car's license - super-imposed upon it.
Likewise, several of the works make explicit references, in the manner of memorials, to friends and collaborators who have died of AIDS. Among the objects taped to the back of another of the large oils is a pharmacy-issue plastic bag, labeled with instructions for administering the morphine it once held and the name "Wojnarowicz, David," written on it in black marker.
Wojnarowicz was a writer and artist whose name appears throughout the show. One of the goblets on a table titled EPHEMERA is called "David's Snow," and there is also a house aflame, made of Safeway grocery sacks and construction paper, that has his name and birth and death dates in one of the windows.
"IXth Life" is a world with many jagged edges. One of the goblets is shattered, with pieces strewn around its base. Nails, screws, pins and hooks abound. There is a story, neatly hand-printed in blue and red ink on paper napkins taped to the back of a collage which tells of a woman who is horribly tortured for political reasons and later meets the pope - and what this meeting signifies to the narrator.
Yet everything is composed with the most delicate sense of balance and sweet-natured precision. The gold-painted bones form a shiny, graceful architecture in their black felt background: femur, jawbone, tooth, skull - each with a text, a word or paragraph laid down with a fine eye for letterforms and spacing. The goblets and glasses are imprinted with such words as "tears," "poverty," "sores' or the invocation, "drink this and be healed."
A show with such exhausting abundance, so much undisguised wonder and loss, might appear to be the work of a talented, untested artist with a yen to explore. But Zimmerman's, "Ixth Life" is, instead a creation of utmost urgency: a head-long rush to see, to remember, to get things done.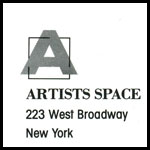 Selections from the Artists File
by Kay Larson, Artists Space, September 21 - October 19, 1985
The Artists File at Artists Space is a fascinating place. It contains the slides of roughly 2,000 New York State artists who are neither represented by commercial galleries nor familiar through solo exhibitions.
In other words, it provides direct access to the thinking of artists who have not yet had their public say. To use the file, you inhabit the Artists Space basement for the two days necessary to project 4,000 slides (two per artist) in rapid sequence. Each pair of slides is keyed to a file folder. The carousel trays are not labeled, either by age race, sex, personal history, or significant friendships; they are not even alphabetical. The process is as egalitarian as one can possibly imagine. The only conceivable hitch in its perfect equanimity comes from the artists whose work doesn't photograph well, or who are unable to muster the strength to supply the file with proper identification.
The Artists File is thus like a vast warehouse whose contents must be crossed-indexed in the imagination of the user; a kind of art library of workable notions, akin to one of the great libraries in a Borges story, encapsulating all ideas down to the most banal. Exposure to banality is merely a part of the experience; any innovation repeated often enough is by definition a cliche. Artists in development are dismantling many years of received information on their way (one assumes) to insights of their own. The presence of cliches is not surprising, but the values of a cliche need to be upheld; it offers proof of the power of certain ideas to reach all strata of the community of artists.
All artists (except those whose development has been arrested by success) are always thinking about and measuring themselves against their peers and predecessors. The cumulative weight of their allegiances can tell us which heroes survive in the climate of the moment, and which no longer have much to say. Observers of the latest trends in the galleries will be interested to learn the graffiti and the more garish variants of expressionism have not yet taken over the Artists File carousels. It would certainly be easy to put together a large "bad painting" show, full of flashy maneuvers and zapped up figures in free flight. But, it would be equally possible to find enough realists of different persuasions to satisfy the most eclectic disposition. Just as quickly, one could put together an information-deconstruction show and apocalypse-science fiction show, or rather a good show of funky assemblage.  Within the file is evidence of shift from the private confessional modes of the 1970's to the outgoing expressive indicators of the 1980's. Minimalism is out like a light.  Conceptualism is alive only as a poetic or analytic-poetic vehicle for piecing together words and images; it is no longer used to document semi-public actions.
Two sources are nearly inescapable, Philip Guston's comic tragedies from the last ten years of his life have assumed an uncanny prescience, an ability to project the right escape route from formalism into figuration, and therefore have touched even artists who might not count them as direct inspiration. Those whom Guston hasn't reached are likely to be indebted, at least partly, to Willem de Kooning and to gestural Abstract Expressionism, which seems to present the only other acceptable entry into a kind of naturalist abstraction (or abstracted naturalism) that could also count Arthur Dove and Charles Burchfield as prototypes. The successful rehabilitation of the early American modernists is reflected in the struggle of the slide file's artists to find a meaningful language for the once banned lyric beauty of nature.
In spite of the number of embryonic theme shows in the files, this exhibition is not meant to be thematic.  An alert curator could perhaps have plucked out the next trend, but other shows can bear that responsibility. I preferred to look for the singular - for artists who know what they wanted to do, even if what they wanted to do would not get them into the Whitney Biennial.
These nine artists and three photographers have a dozen different points of view. They are all strong individuals with an idiosyncratic connection to "movements"" and an empathy for craft. 
The Artists Space slide file is known as an avenue to the larger world; the people who have completed the transition make an impressive list. The file is as egalitarian in terms of style as it is in terms of race or sex; anyone who sits through one of the marathon viewing sessions is prevented from too-rigid proscriptions about the nature of art in the 1980's. In that spirit of diversity, this exhibition has been put together.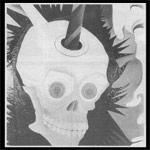 "Hot Stuff" at Blackfish Gallery
by Paul Sutinen, Willamette Week's Fresh Weekly, September 6, 1982 - Gallery Round-up
"...While most of these artists seem to make their works consciously weird, Philip Man Ghost makes paintings and objects that exude an arcane religiosity, a 20th century vision of hell and decay that seems genuinely felt. The images are difficult to interpret, but there is no doubt about their visual power.
Three large dark paintings depict various human-like figures. One is dark and shadowy like a beast in the night. One shows a skeleton on fire holding a small black airplane at its fingertips. The third depicts a whitish figure decaying into a bloody skeleton with an animal-like head. In several other paintings one sees fire spirits, images of decay and destruction, things out of control. Rendered with exactitude and excess, the paintings are reminiscent of medieval works depicting Hell and the Last Judgement.
There are several small objects, sometimes including bread and blood shown in a single clear case. On a plate in one piece is written "I am bewitched my eyes do not leave the image of Christ's navel..." In the context of these works this does not seem like a slickly invented line, but rather a valid statement believed in by the artist.
A small work called Battery is about three inches long and is made up of a carved skeleton with crystal legs lying on a "tombstone". On the skeleton's teeth lies a pearl and on its abdomen sits a tiny brown skull. The power of this object (which in this case I measure in terms of having shivers run up and down my spine) is as strong as the tall paintings."
ALSO REFERENCED IN:
Carr, Cynthia. Fire in the Belly: the Life and Times of David Wojnarowicz. New York: Bloomsbury, 2012.
Sister Dana Van Iquity, "Four Artists Express a Thin Line at Visual Aid Exhibition", Bay Times, 14 June 2011.
Lotringer, Sylvère, and Giancarlo Ambrosino. David Wojnarowicz: A Definitive History of Five or Six Years on the Lower East Side.
New York: Semiotext(e);, 2006. 46-53.
Tommasini, Anthony. Virgil Thomson: Composer on the Aisle. New York: W.W. Norton, 1997.
Rinder, Lawrence. "Positive: a Visual Aid Legacy". San Jose Institute of Contemporary Art, December 1995.
Santiago, Chiori. "Aids, Harmony and Abstracts." San Jose Mercury News [San jose] 17 Dec. 1995.
Poore, Ann. "Transfixing American Krist at USU Holds Layers of Spiritual Meaning." The Salt Lake Tribune [Salt Lake City] 19 Feb. 1994.
Friedman, Robert. "Legacy of Loss." Artweek, vol.24, no. 5 4 Mar. 1993: 21.
Weinstein, Joel. "IXth Life has Jagged Edges." The Oregonian [Portland] 22 Jan. 1993.
Larson, Kay. "Selections from the Artists File."Artists Space [New York] September 1985.
"Fresh Weekly Arts Round-up." Williamette Week [Portland] 1 Sept. 1992
McGovern, Wendla. Blackfish Fireworks, Gallery Review Autumn, Vol. 1 #3, 1982.